"Actually, since you're here, there IS something you could help me with, if you're up to the task."
This article needs version details. You can help the Prodigy Game Wiki by
adding to it
.

"Let's get back to work building it back up!"
This article is a
stub
. You can help the Prodigy Game Wiki by
expanding it
.
This page is marked as a stub for: Needs Expansion.
Prodigy Math Game is an online-based RPG (Role-Playing Game) dedicated to teaching math curriculum, created and published by SMARTEACHER Inc., doing business as Prodigy Education.[1]
Gameplay
Noot, the player's fairy guide from the Academy, guides the player through the tutorial. Players will choose their starter—each representing an element. After entering the Academy, the player discovers The Puppet Master, a misguided entity who plots to rule the island and restore Shadow magic's "rightful" glory.
As the player progresses in levels and the plot, they must overcome more challenges and enter into new adventures, such as Harmony Island and Crystal Caverns.
Educational Goals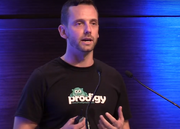 Prodigy Math Game is designed to make learning more enjoyable for young children of grades 1–8.[2][3] However, they do not have to be in these grades to play Prodigy. It features benefits for teachers and parents, such as accounts that parents can use to manage their children's in-game account, and accounts for teachers to manage their classroom.[1]
A co-CEO of Prodigy, Alexander Peters, gave a speech detailing how Prodigy's educational system works: it operates through an AI (as well as other technology)-based mastery model that defeats textbooks by being heavily personalized and adaptive to the students, while keeping them engaged.
Reception
Currently, over 24 million people play Prodigy.[4] It was originally released in 2011[5] on June 22nd[6] and sold to private schools, then released to the public and became free to play on October 9th 2015.[7] Early versions of the game featured polygraph technology similar to a lie detector that were used to detect anxiety in the student and modify the given math questions appropriately. [8]
Prodigy Math Game has an estimate of 500 employees[9]. The current CEOs are Rohan Mahimker and Alexander Peters.[9]
See also
References
Change History
Version 1.0
Prodigy Math Game was released.
---